*****SPOILER WARNING FOR HARRY POTTER BOOKS 1-7 DO NOT READ ON IF YOU HAVEN'T READ THE ENTIRE SERIES (Excluding HPATCC)!!! PLEASE! THIS IS YOUR LAST WARNING!!!!!*****
Sorry Queen, but at least I warned them!
So, I was going to do a review of HPATCC (Harry Potter and the Cursed Child), but then I realized that HPATCC is one of those books where you either read it or you won't (though you definitely should). So…instead I decided to do a From Then To Now interview with the characters from the first 7 books! We'll use a time-turner to go into the past and interview them and start lots of drama! *pulls out time-turner* *hears screams of don't do it in the distance* *thinks oh well* (Also, it is pretty is a lot longer than I expected. Just an fyi)
Hello, and welcome to Celebrity Character Manhunt! Where we hunt down characters in the past, and bring them to the present! Today, we are featuring the Golden Trio and their enemies, as well as their friends! Our first prisone-guest is the one and only-Ron Weasley!!!
TV Persona (me): Yes yes, we know that Ron. So how do you feel about spiders? Still afraid  of them?
Ron: *looks around nervously* Wahh? No, of course not! I simply don't like their eight legs and beady eyes and pincers and fat body and webs and all that stuff. *shudders* You didn't happen to have a anti-spider charm cast over this studio, did you?
TV Persona (me): Um…*motions for backstage crew to get rid of spiderwebs over doorway* Of course! Your comfort is our priority! So how do you feel about Hermione? She's quite a handful, eh?!
Ron: She needs to sort out her priorities!  Honestly, that woman drives me crazy! And don't even get me started on her lack of appretiation for food! Did you know that she asked me to stop eating so much once? And I was only on my fourth helping! It's like she wants me to starve or something!!!
TV Persona (me): Ohoho! Hear that Romione fans? It seems like Ron is mad at Hermione! Let's bring in Hermione, who's been watching-and listening-the whole entire time!
Ron: WhAT? *whispers* Oi, mate, I thought we were friends!
TV Persona (me): What? No, of course not! You characters are all the same-thinking that just because someone gave you food and saved your life from riding death horses to a forbidden department at night to save a family member, that we're automatically friends or on the same side or something *rolls eyes*. Anyway, let's hear a round of applause for Hermione! *Hermione walks onto stage*
*large applause*
TV Persona (me): So Hermione, what do you think of Ron?
Hermione: Ron? Who's that? Oh wait-you mean that little jerk who won't stop eating and talks bad about his friends on TV behind their backs? That one? Yeah, I knew him. *glares at Ron*
Ron: Hermione, it was just an misunderstanding! I was just-
Hermione: Oh, so saying that having actual goals is just an 'misunderstanding'!? Well excuse me if I actually have a plan and am going to be succesful in life!
TV Persona (me): Wow wow WOW! Some very choice words there, Hermione! And to your future husband! Wow! So, Hermione, how do you feel about the time you tried to start a fire with wood? What a stupid idea, honestly!
Hermione: Future husband?!?! There is NO WAY in a million years that I would ever marry Ron. EVER! And for your information, I was panicking! I would like to see you do better. You're just a glorified busybody with no dignity! This is a really cheap show!
Ron: Yeah! You tell her, Hermione!
Hermione: Be quiet. I'm not talking to you Ron
TV Persona (me): Hey! I am a very dignified underbudgeted TV Personality! I will not have you speak to me that way! Just because we couldn't afford an anti-spider charm and can't pay our guests, doesn't mean that we are cheap!
Ron: Wait a second…you said that there was an anti-spider charm!
TV Persona (me): *quickly tries to change subject* Luna, Ginny, Cho, and Harry! Come on out!
*fanpeople scream*
Harry: Thanks for having us.
Luna: *dreamily* Did you know that there is a Nargle on your shoulder, Cho?
Cho: *scoots away uncomfortably*
TV Persona (me): So Luna, do you feel that the the latest article in the Quibbler is true? That if you put lemon on Mistletoe, that the Nargles will avoid it?
Luna: Oh yes, I have suspected for a long time. And the article only proved my theory correct.
TV Persona (me): Fascinating! I've been wondering since I have a whole bunch of Mistletoe over my doorway, but the Nargles just really ruin the effect. Anyway, Cho, Harry, Ginny, how's the love triangle going? You enjoying it!?
Harry: What are you talking about? *is oblivious*
Cho: Um, I don't know what you're talking about! Me and Harry are a great couple! We haven't even fought yet! I didn't know there was a love triangle
Ginny: *shifts uncomfortably* Um, I'm dating Dean and am totally over Harry
TV Persona (me): Sure, sure *winks* And now time for our last guest before the special guest-DRACO MALFOY!
*silence* *lone cheer*
Draco: My father will hear about the lack of respect for the Malfoy name!!!!
*huge cheers* *wolf whistles* *flowers thrown*
Draco: Thank you. *turns to me* May I ask why I was brought to a filthy muggle entertainment show?
TV Persona (me): To stir up trouble of course! Draco, did you know that you turn into a total cinnamon roll when you grow older?
Draco: *sputters* What is a cinnamon ro-How dare you call me a cinnamon roll! I am a MALFOY! I WILL TELL MY FATHER ABOUT THIS!!!!!!
TV Persona: Let me enlighten you, Draco. A cinnamon roll is an adorable, sweet, innocent, usually oblivious (though not always), character that everyone loves. A cinnamon roll is not this
Large TV behind guests:
TV Persona (me): But actually more like this
Large TV behind guests:
Draco: WHAT IS THIS NONSENSE?!?!?! I AM NOT A CINNAMON ROLL NOR WILL I EVER BE!!! I AM A MALFOY! A RESPECTED FAMILY WHO WILL NOT BE ASHAMED BY SUCH THINGS AS A CINNAMON ROLL!!!! MY FATHER WILL HEAR ABOUT THIS!!!!! *starts to storm out*
TV Personality (me): Wait! No! You have to see our special guest!!!!! *motions to backstage crew* BRING OUT THE GUEST!!!!
Draco: *ignores wise advice* *stops in shock*
*fangirls scream and faint*
Harry and Cho: Cedric?!?! 
Hermione: *stutters* Bu-bu-but we th-thought y-you died.
Cho: And who's that girl? Do you need me to fight her!?
Bella: Who's she? Edward, I thought you loved me!!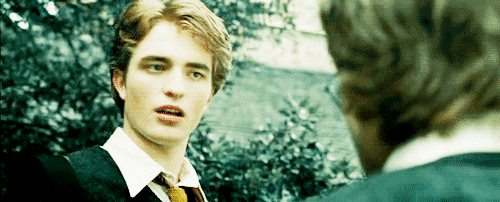 Edward/Cedric: *turns to host a.k.a me* You said this was a private interview!
TV Persona (me): Did I? *reviews contract* Ah, yes I did. Except in the fine print here it says that it is a private interview limited to half a million people there as well as a billion people able to watch at a time. *shrugs* What can I say? Laywers.
Luna: Cedric, you seem different. Almost like you glow…
Ron: *squinting* Yeah, did you get wet or something?
Ginny: Wait, Cedric, are you sparkly?!
Edward/Cedric: Um, no, I-
Bella: WILL SOMEONE PLEASE TELL ME WHO THESE PEOPLE ARE?!?!?!
Ginny: We're wizards. What are you?
Bella: Wizards?! But those aren't real! They're a myth!
Harry: Yeah, I thought so too until I got my letter for Hogwarts
Hermione: Cedric, your eyes are different
Ron: Yeah, Hermione is right
Hermione: Ron! Don't talk to me!!!
Cho: *touches Edward/Cedric's arm* You're really cold. Are you Ok?
Edward/Cedric: Yes, I'm fine I just-
Harry: Are you sure? And who's that girl?
Edward/Cedric: Ok! FINE! The truth is, I'M A VAMPIRE OK?
Bella: *gasps* Edward, are you sure you can trust them?
Draco: *stares* You, a pureblood, became a VAMPIRE?! THAT'S EVEN WORSE THAN BEING A MUDBLOOD!!!
Hermione: *tries to fight Draco*
Bella: Do we know these people?!
Edward/Cedric: Um, no *avoids eye contact*
Ginny: Why does your skin sparkle, Cedric? Do you use some sort of product on it?
Edward/Cedric: FINE! I ALSO SPARKLE IN THE SUN OKAY?! *rips off shirt*
Draco: *mutters* Such a disgrace to the purebloods. *faints*
Cho: *starts crying* I don't know you! *runs away*
Harry: Cho! WAIT! *runs after her*
Ginny: *sulks*
Hermione: *rolls eyes*
Ron: Wait, what's going on? Is there free food somewhere?!
Luna: Look! There's a Blibbering Humdinger!
Bella: *whispers to Edward/Cedric* Is she crazy or something?
Edward/Cedric: *sighs* *facepalm* I don't even know anymore.
TV Personality (me): Well, it seems like that's enough for today! See you next time on Celebrity. Character. MANHUNT!!!! *waves around arms dramatically*
(And for those of you who don't know, the actor who played Cedric also played Edward. Just in case you are confused)