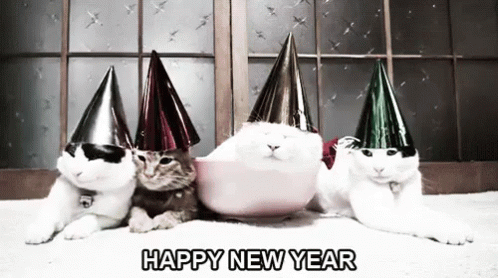 Hello all! Long time no see. 2018, especially the last few months, have been a bit wild for me. I'm in the middle of tenth grade and I am so much busier with schoolwork than ninth grade (granted, I am working a little harder, but there is more work regardless). Luckily I love school, but it hasn't left as much time for me to enjoy doing things outside of school. For example, I haven't posted on here in over a month!! That's totally crazy! I also haven't had as much time to read, which is really sad. Over winter break, I've completed about 3 books in the first week and a half which is more than I read in all of November! Anyway, 2018 has been a memorable year and I'm here to share my favorite, and least favorite, moments of it with you!
2018
I completed my Goodread's Reading Challenge!!
I did so much better in 2018 than 2017, which I *cough* didn't complete *cough*
I even read more pages than 2017! 16,263 pages compared to 16,223 pages.
I can confidently say that I read one of my favorite books of all time!
*Books
If Six of Crows blew me away then Crooked Kingdom swept me up into a tornado (I tried to refrain from an awkward and weird metaphor, I really did). Both books are absolutely incredible. They deal with sensitive subjects in ways that don't feel clumsy nor sugar-coated. The romance! The action! The plot! The characters! If you are to read only one book for you entire 2019, SoC should be it.
I also read some disappointing sequels
SO MUCH WASTED POTENTIAL!!! Why, Neal Shusterman, why did you have to fall into the clichés?!
I read a lot more manga! (And probably wouldn't have completed my reading challenge if I hadn't)
The entire Tokyo Ghoul: Re series was probably one of my favorites. I absolutely love the art style AND where the story is going. Plus, the parallels to the first series?? Like fine wine. This year I will, hopefully, finally write a review on one!
I'm shocked to say this, but some really good book-to-movies came out this year! My favorite was probably Love, Simon (based on Simon vs. the Homo Sapiens Agenda).
I love how similar they made the movie poster to the book, just look:
Ok, not as much as I thought.
SO MANY PRETTY BOOKS! Oh my gosh, I am 100% guilty of picking books based on their covers because even if I don't like it, I at least want it to look good on my shelf.
So here are some of my FAVORITE covers of books I've read in 2018:
There's also one book that I've read this year that was so incredibly terrible, yet I would most likely have given it 5 stars. I thought about reviewing it, but I thought I most likely would not have been able to do it justice. That book is 1984
My precise review on Goodread's was '????!!!!!' which I think sums it up pretty well.
2019
My only resolution this year was to be happier. It's not super stressful and I think it's something we should all strive for regardless!
This is also the year I can get my driver's licence! Which is CRAZY?!?!?! I am also FINALLY going to cut my hair short(ish) which I've been building up my courage for the past two years to do. TODAY IS THE DAY! I will post a picture when it is done!
My reading challenge this year is the same as last year (40 books). I thought about increasing it, but I doubt that I will have the time once I start junior year!
Anyhoo, here are my top 3 most anticipated releases for this year!
1. Wayward Son (Carry On #2) by Rainbow Rowell
When my friend first told me about this book, I legitimately thought that she was pranking me. I looked it up and it turned out it was real and I was SO happy!! I absolutely LOVED Carry On and now that it is getting a sequel?? I have very high hopes for this one.
2. Keeper of the Lost Cities #8 by Shannon Messenger
I'm sure this comes as no surprise for most of you. If you've read any one of my reviews of this series, you'll see why. 😉
3. Bloodwitch (Witchlands #3) by Susan Dennard
This book has taken FOREVER to come out. I've never forgotten the series but I'd just assumed the writer had stopped writing the series or something. NOPE! IT'S ALIVE! HUZZAH!
How are the Cats?
Bhast, unfortunately passed away. She was a wonderful, fluffy, lazy cat who loved tummy rubs. She is missed ❤
Iggy seems to have hit puberty and refuses to hang out with his humans and participates rarely on the blog
Tiger is sweet and lovely as usual. His modeling career has taken off!
#nofilter
My Haircut!
Before & After
I hope you all have a wonderful 2019! Till next week!